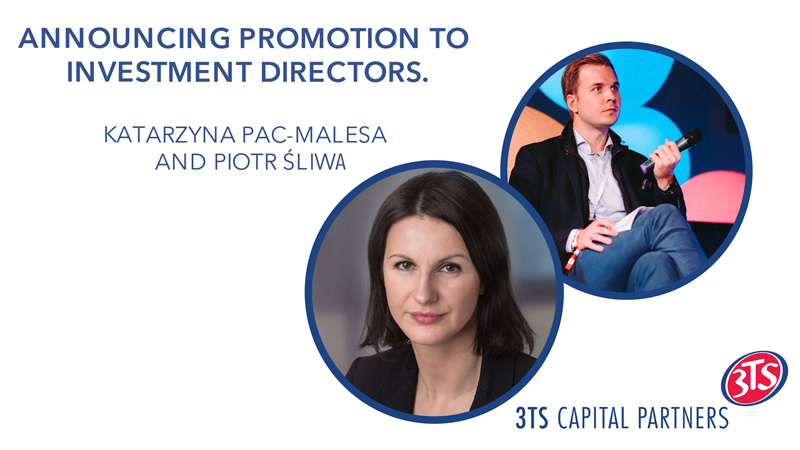 Vienna, 25 June 2020 – 3TS Capital Partners, a leading European technology focused private equity and venture capital firm, is pleased to announce the promotion of Katarzyna Pac-Malesa and Piotr Śliwa to Investment Directors with immediate effect.
Katarzyna has significant private equity and corporate finance expertise. She joined 3TS in 2008 and has mainly worked on various Polish and international portfolio companies. Her current portfolio includes Interactive Travel Holdings (online travel agency with Vola.ro in Romania and Fru.pl in Poland), Perfect Gym (international gym management software company out of Warsaw) and Combostrike (global gaming focused marketing agency headquartered in Berlin).
Previously, she was analyst at mCorporate Finance, part of mBank, Commerzbank Group, focusing on TMT industries. Prior to that, she worked as intern in the financial service advisory company Zeb/ and in the corporate banking department of Citibank. Katarzyna is a CFA charter holder and holds a degree in investment banking of the Warsaw School of Economics, Poland.
Piotr joined 3TS in 2017. He is mainly working on the portfolio companies Parsek (e-health solutions provider based in Vienna and Ljubljana), Nexd (mobile-first adtech business headquartered in Tallinn) and eyerim (pan-regional eyewear online retailer with headquarters in Bratislava).
Before joining 3TS, Piotr was with the Austrian private equity fund AWS Mittelstandsfonds where he focused on software and healthcare companies. Before that, he was M&A Associate at the investment banking division of UniCredit Group responsible for buy- and sell-side mandates in various sectors in CEE and Austria. Earlier in his career, he worked as core banking consultant for IBM Global Business Services. He is also a is a CFA charter holder and holds degrees in management of the ETH Zurich, Switzerland, and in electrical and electronic engineering of the Imperial College London, United Kingdom.
"Katarzyna and Piotr have been invaluable part of the team since joining. They have added a considerable amount of value to the investment team and enhanced the way we work. We are happy to see them ramping up their skills and expertise and advancing in their careers. Professionals like them are crucial for the team, supporting portfolio companies and making new investments in these challenging times," Pekka Mäki, 3TS Managing Partner commented.
Katarzyna added: "These aren't easy times for most industries and a lot of companies are put at test. Joining 3TS in 2008, I had the chance to work with our portfolio through the financial crisis then. I am happy that in a new role I can draw from that experience and help our outstanding founders' team find opportunities also during the crisis now. I strongly believe a diverse team including a female voice is necessary to come out even stronger from this difficult period."
Piotr said: "Supporting some of the top founders for more than 20 years, 3TS has developed an excellent track record and expertise in the industry. I have enjoyed my work with our portfolio thus far and am looking forward to backing new entrepreneurs as well. It is a privilege to be a partner for those companies when working towards their mission."