MARCH 2023
Dear Friends,

The start of 2023 has not been short on excitement, after everyone had hoped for increased stability following a tumultuous 2022. While new world changing innovations like Generative AI take hold, the demand environment, capital raising and the credit markets (driven by SVB's demise) have all become more difficult. We are fortunate that so far revenue growth in our portfolio is holding above 50% y-o-y. And despite the challenging environment some of our best companies raised well deserved rounds including a break-out $200m financing at ShiftMed (Homecare). We hope some of our points below resonate as you build your business, and we look forward to seeing everyone at one of the upcoming events.

All the best,
The 3TS Team
3TS KEY LEARNINGS
Key Learnings to Navigate a New Paradigm for Growth and Funding
Now that we have entered the second year of the market downturn, it feels a bit like "Back to the Future" to pre-2019. Revenue growth isn't as easy, customer demand is challenged, there are macro headwinds from every direction, and it's become that much harder to raise new capital.

Managing Through Turbulent Times
Most of you know what to do in turbulent times — you focus, laser focus. Expect 75% growth to become 50%, 50% to become 30% and so on. Extend runway before growth actually slows. Double down on delighting current customers to ensure retention and up-sell. Rank the top 50% of clients and cross-sell your other products. Farming > Hunting. Add in managed services because clients have reduced headcount too. Tighten marketing and sales to focus only on ideal prospects only; no or fewer experiments. Don't depend on large deals, those will be harder to come by and to close. Move away from selling into discretionary verticals or selling discretionary products. Expect you'll need more pipeline as you can expect conversion rates to decrease. Find creative ways to combat sales cycles which will be increasing quickly. Keep demand generation focused on core countries or regions. Find product modules or packaging that can create new inflection points of growth, instead of adding more features.

There Won't be a Great Recovery in Valuations
Multiples are now back in their normal long-term trend. Over the past ~18 years, revenue multiples have consistently stayed in a 5-7x range, excluding the boom years of 2019-2021. That peak period is over and maybe never to be seen again in our working lifetime. In this phase, it will take twice as much revenue scale and twice as long to raise capital since the markets are down 50-70%. If you and your stakeholders adjust to this new reality, everything will be fine, just like it was over the prior 18 years.
Median SaaS EV / Forward 12-Month Revenue Multiples since 2005
But Wait, There's Also Room for Balanced Optimism
Two factors among many have proven over the years to drive growth in venture backed companies. (1) Breakthrough innovation – your products better deliver such levels of value (ROI of 5-10x) that customers of all sizes must have them, no matter what. Afterall, in the broader market with thousands of prospects, remember your company is actually still very, very small, so with unparalleled innovation you'll always find new clients. (2) Adoption of Technology – the curve of digitization is still in early phases. Despite all the headwinds Gartner is predicting enterprise software spend will grow 9.3% in 2023. That's a lot of growth even if the actual result is way lower and bodes well for growth inertia in 2024-2025.
3TS PORTFOLIO & NETWORK NEWS
ShiftMed Raises $200M to Drive Expansion of Leading Digital Healthcare Workforce Marketplace
Exciting to see ShiftMed (aka Homecare.com) raise this new large round, especially during these challenging times. The capital will be used to power its exponential growth going forward and cement its market leadership position. We are grateful to have backed and worked alongside the entire ShiftMed team over the past 5 years.

SafeSize Closes New €14m Round of Financing to Continue Growing Globally
We congratulate Safesize on closing €14M in new financing. New investors included Phaistos Investment Fund and a leading, strategic retailer. Powered by AI and machine learning, Safesize has established itself as a leading 3D virtual fitting solution, with the largest install base across 2,500 locations in total. The Company's real-time, personalized recommendations has helped over 20 million consumers in 50 countries elevate their footwear experience.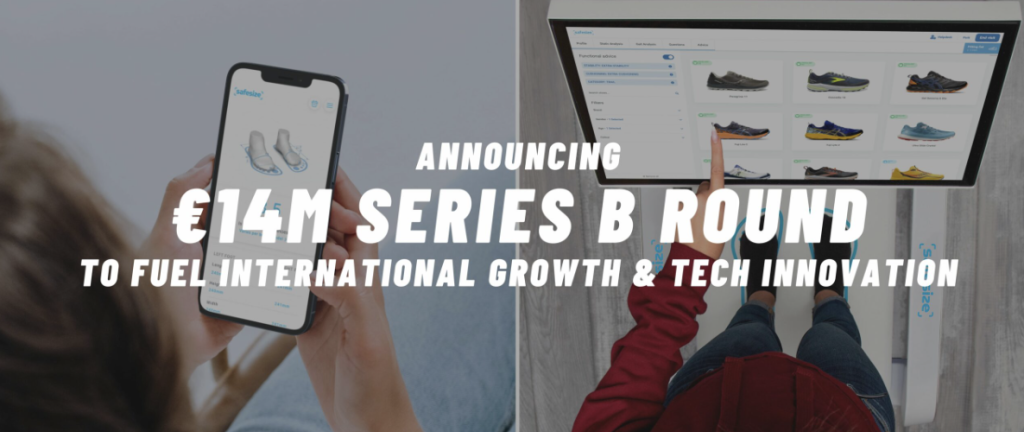 ITH Reaches New Altitudes, Growing Revenues 93% Y-o-Y, while driving Double Digit Profitability
The Travel industry was hit hard by the pandemic and managing though 2020-2021 was an extraordinarily difficult challenge. 3TS portfolio company ITH, a leading online air-travel booking platform composed of Vola in Romania and Fru in Poland, was no different. As air travel re-opened, it's been impressive to see how ITH had put in place the springboards to roar back and almost double revenues in 2022, while reaching significant profitability and taking even more market share.
Tosibox enables cybersecure connectivity for HUR's in hundreds of sites worldwide
For the first time, HUR (a leading strength training equipment provider) is able to connect, update and manage its fleet of strength training equipment across 40 countries, by leveraging TosiBox's Node platform. HUR reduces mean time to repair and secures critical user details.
Perfect Gym Solutions S.A. number one gym CRM software for fitness centres in the latest global ranking by SoftwareWorld.co
Exciting to have PerfectGym win top-spot in SoftwareWorld in the HealthClub category. The company is establishing a new generation of end-to-end club management that enables owners and operators to engage members, increase revenue and streamline facility activities all in one solution.
GOOD READS & GREAT IDEAS
The Top 10 Worst Pieces of SaaS Advice, by SaaStr
It's tough enough out there in 2023. If you do nothing else, avoid these 10 mistakes, especially 5, 9, and 10 which we find are often overlooked.

Critical Customer Metrics for Each Stage of Your SaaS Company's Journey, by CanSaaS
Since earlier in this newsletter we pointed out focusing on clients is key in challenging times, here's a great set of tools. From daily active users and product adoption early on, to NPS and NRR as the company scales, make sure you're measuring and optimizing the right metrics that reflect customer success.
Have the industry's channel chiefs really moved to an ecosystem model?, by Canalys
Adding channel partnerships is a strategic multiplier to direct sales models, which is often misunderstood as competitive. In most software markets there's already an established ecosystem – take advantage of it. Canalys lays out clear routes to new channel partnerships and proven way to engage to drive success.