About the Impact of Coronavirus on Sales and the Digital Media World
With Bas Nawijn, Senior Vice President Sales – GM EMEA Piano and Elbruz Yilmaz, Investment Director 3TS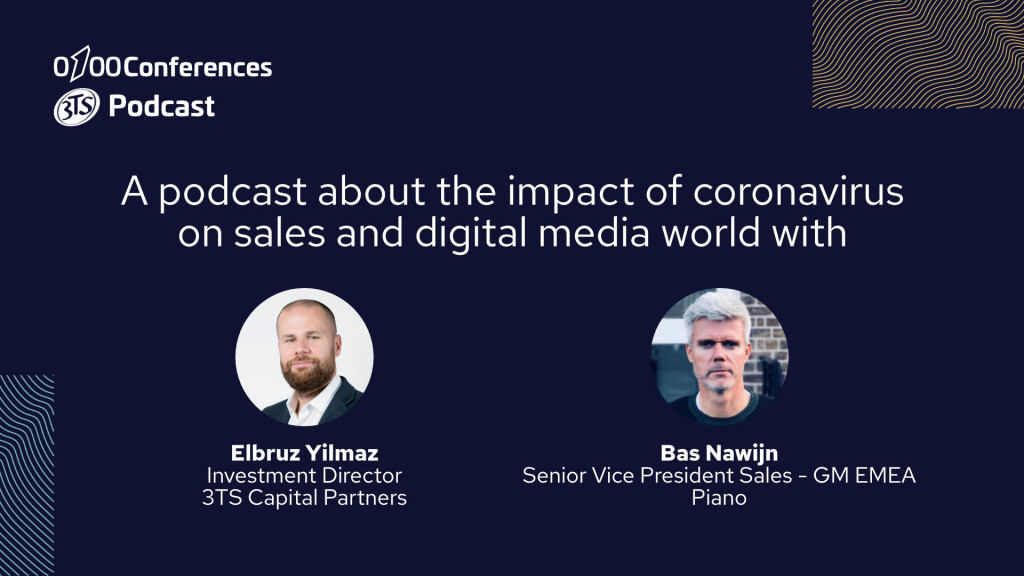 Here is the fourth episode of the 0100 Conferences 3TS podcast. Below, you can find the key messages that Bas Nawijn, Senior Vice President Sales – GM EMEA at Piano and Elbruz Yilmaz, Investment Director at 3TS Capital Partners, discussed about the impact of the COVID-19 crisis on sales and digital media world.
Piano is a 3TS portfolio company and it provides subscriber engagement, digital subscription and online content monetization solutions for global corporations in the digital media, publishing and information services sectors. Piano has a leading position in its segment and is one of largest drivers of digital subscription revenue for over 150 clients across US, Europe and Latin America.
Bas Nawijn, based in Amsterdam, is Piano's general manager for Europe, Middle East and Africa for the last two years. Prior to joining Piano, he's been leading the European team at Magento for six years and lived through the acquisition of Magento by eBay and then also by Adobe.
Q: How are you dealing with the COVID-19 situation and how is it impacting your day-to-day business?
A: It is incredible how quickly the events unfolded and how global it was. This posed a challenge for us which was twofold. First and foremost, we wanted to make sure our employees were safe, sound, healthy and that we can support them and their loved ones. The second part was ensuring business continuity and as a SaaS business we are used to be in touch with our customers online or by phone, but of course not all companies are set up to communicate fully remotely and the face to face contact is being missed. We are checking in on daily basis with the management to see where we can support our employees and our customers.
Q: Have you lost sales velocity? What has been happening with sales at Piano?
A: It is a mixed picture. Some of our projects have sped up as customers have been sort of forced by the situation to make decisions quicker. The hunger and the demand for good quality content today is amazing and some of our customers have seen significant spikes in page views, demand and subscriptions. Then there also have been customers who had to re-adjust to the new situation and they're now coming to the realization that this situation might last quite a while. While business is returning to normal, these customers also have to adopt new strategies and adapt their investment plans and I think we will see that next wave happening over the next couple of weeks. Other few businesses have been severely hit, especially in areas like event organization, training or education and customers in these fields are putting things on hold for now.
Q: What are some of the tactics that you have employed since the crisis started?
A: We have been calling all-hands meetings with the entire team and also with the sales team and we have been briefing people about what is happening in the company and how we can support them, but also getting their feedback on what they are seeing on the market and hearing from our customers, partners and experts. We also run most mornings something we call "coffee meetings" for the Amsterdam office, the Berlin office, the DACH region or the Oslo office. Constantly talking to each other does all of us a lot of good and it establishes a sense of normality. It also sends the message that business keeps going and that the people are being listened to although we don't meet each other in person.
Regarding our messaging towards customers, we have decided that this is the time for us to provide even more thought leadership than usually. Based on the data we see, we can identify certain trends. We want to share that and make sure that our customers and our prospects understand what's going on. We've published a couple of press releases and webinars that you can see on LinkedIn and other media.
Q: Are you still tracking KPIs in these unprecedented times?
A: I think KPIs are very important for businesses like Piano and I think we've become much more intelligent and collaborative when it comes to sharing those KPIs and making sure that everybody understands why we want that level of information. Right now, I think it is phenomenal to see the amount of leads we've got during the past couple of weeks. We need to measure that and make sure that our response rates are very quick. We also need to track the conversion from our leads into sales qualified leads and into opportunities. It will give us a real insight into how the pipeline is developing for the 2nd quarter and for the second half of this year. It is also very important for us to identify where we need to make additional investments in the business.
Q: How do you make sure the team is motivated and up to the tasks on a daily basis?
A: I think it is a very important question, as this situation naturally makes a lot of people to feel anxious and concerned. We totally understand that and empathy is really important in situations like this. Every conversation is first and foremost about health and well-being of our employees, customers and prospects. Then we are making sure that people understand what we expect of them. The fact is that for us it's business as usual, or actually more business as usual. There is a phenomenal demand out there from our customers and from our prospects. We have a responsibility to make sure that we inform the market and that we're taking the lead.
A a lot of attention right now is being put into research, understanding and preparing. We want to make absolutely sure that the meeting agendas are very clearly outlined before we connect to our prospects and customers.