Dear friends,
We are glad to be able to share more good news from our funds and our portfolio with you this month. What we are most excited about is that Catalyst Romania has had the second closing of its second fund and reached the target size 6 months before the deadline. On our portfolio side, new fundraising rounds, successful client collaborations and industry recognitions are taking place.
We would also like to invite you to join our Focus Session at the Investors Summit on May 5th if you want to find out more about the Viennese Digital Health ecosystem and our experience in it.
Enjoy the newsletter,
Jasmina Henniova, Communications & Investment Manager and the 3TS team
Catalyst Romania Fund II Reaches Its Target Size 6 Months Ahead of Deadline
Catalyst Romania Fund II, the first second-generation growth capital tech fund for Romania, has recently announced its second closing at its original target size, only six months after the initial launch. The European Investment Fund contributed to the second closing by topping up their initial investment and Banca Transilvania, the biggest Romanian bank, joined Catalyst Romania Fund II, after being one of the investors in the first fund. Together with the other investors from the first closing, the total number of Catalyst Romania Fund II is now around 40, and the fundraising will continue in the next months, towards a final closing in autumn.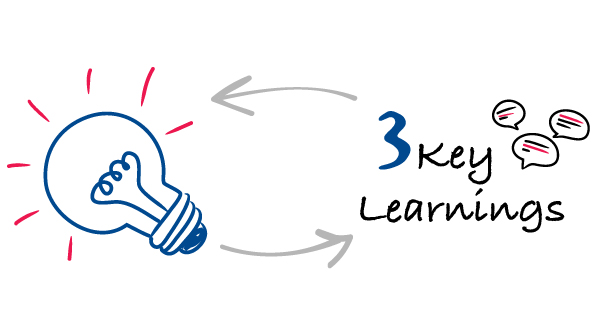 3 Key Learnings about Diversity & Inclusion
Jasmina has worked on diversity and inclusion topics for over 12 years now. Last year, she has been named as one of the Future 40 Diversity & Inclusion Leaders by Real Deals and PER and she put together her key learnings about the topic in this blog post.
3TS and 0100 Conferences Podcast – Demystifying SEE with Jan Kobler from SC Ventures
Managing Partner of South Central Ventures, Jan is one of the pioneers in Venture Capital in Southeast Europe. During the podcast, we talk about the region's specifics and challenges as well as European and US expansion strategies out of SEE.
3TS PORTFOLIO NEWS
Funderbeam Raises €3.4m from New and Existing Investors
Funderbeam, the global funding and trading platform, has just closed a follow-on funding round by raising €3.4m from existing and new investors. Funderbeam connects a diverse investor network of around 70,000 registered users with highly vetted companies across international markets and also allows private investments to be traded on the marketplace.
Parsek's Digital Services Are Supporting Safe Outpatient Cancer Care in the UK
Several National Health Service (NHS) trusts in the Lancashire and South Cumbria region in the UK are working together with Parsek to establish remote electronic systems for safer remote care of cancer survivor patients, with breast, prostate and bowel cancer. The CCIO of University Hospitals of Morecambe Bay NHS Foundation Trust Colin Brown explains why he sees this collaboration as an opportunity to tackle the COVID-19 backlog in his statement linked above.
Perfect Gym and Agence Mac Media Team Up to Digitally Transform Canadian Fitness
Perfect Gym partners up with Agence Mac Media and with their local sales and support they will transform the nearly $3b fitness industry. Canada has the highest gym members cancellation rate of all countries polled since the pandemic and, with Perfect Gym's help, needs to find new strategies to re-engage with customers.
SALESmanago Recognized as a Top Marketing Automation Tool by Software Advice
The leading international software review and recommendation engine Software Advice featured SALESmanago in its "Top 5 Marketing Automation Tools To Boost Lead Conversions" report. This is yet another great honorable mention after the G2 Crowd recognition earlier this year.
Join Our Digital Health Focus Session at Investors Summit
On May 5th at 11:30 3TS Capital Partners, together with APEX and VINC Advisory, hold the Digital Health Focus Session at the Investors Summit as part of the ViennaUP'21 events. Register and join our session to find out more about the Viennese Digital Health ecosystem and meet our digital healthcare company Parsek.
GOOD READS & GREAT IDEAS
The a16z Marketplace 100: 2021 – by a16z
Andreessen Horowitz published the second edition of the largest consumer-facing marketplace private companies ranking, this year featuring 20 newcomers. The firm analyzes the impact of the COVID crisis but also looks into emerging trends and makes predictions about what is next. 3TS portfolio company TourRadar is part of the list for the second consecutive year, ranking 77th this time despite the currently difficult state of the travel industry.
Bet On Up-and-Comers. But Add One Veteran For Each $10m ARR – by SaaStr
Correction, add an experienced veteran every $3-5m of revenue. It's risky and hard to break through key inflection points in your company's journey without experience. Flying through inflection points yields exponential growth and scale. Hitting one or more of the multiple stall-points along the way can be fatal. Reach out to find out what are the inflection and stall-points to watch out for.
Speed as a Habit – by First Round Review
Looking at all aspects of building businesses, speed is the only sustainable differentiator. It applies in getting a big head-start, seizing market share, taking thought leadership high-ground, hiring well, flaking the competition and honing your growth strategy. Are you moving your company quickly enough to not end up a bystander to someone else's success? Talk to us to find out about tactics to accelerate your decision making.
MEET THE TEAM
Alin Stanciu, Partner Catalyst Romania
At Catalyst Romania, Alin is responsible for investment activities from sourcing to deal execution, monitoring portfolio companies on board level, fundraising and LP relations, as well as networking and brand building.
Prior to joining 3TS Capital Partners and Catalyst Romania in December 2017, Alin has been known as one of the successful Romanian serial entrepreneurs and angel investors. His professional experience spans over 20 years of entrepreneurial and management activity within the telecom, e-commerce, publishing, and online media business sectors.
Originally from Cluj-Napoca, Alin lives in Bucharest since years. He holds a degree of Electronics and Telecommunication at the Technical University of Cluj-Napoca and a Master of Business Administration from Open University London Business School.
Alin is a great hobby cook, usually in charge of festive family menus. On Christmas, he always prepares his famous slow-cooked pork belly. He is also known to be the sommelier of the family, with an impressive champagne and wine collection. Since a very early age, Alin is also a big sports aficionado. He played professional handball in high school, and continued to play basketball, football, and tennis throughout the years. He has also practiced almost every mountain sport out there: from mountain biking and cross-country motor-touring in Caucasus, to paragliding, freeride skiing and snowboarding, and even trekking the Himalayas.
As a passionate traveler and an avid golf lover, Alin has played on multiple golf courses across four continents. His goal for this year is to become a single-digit handicap golfer, if he will find enough time between making new investments and working hands-on with the portfolio companies.
Favorite quote: "An investment in knowledge pays the best interest." -Benjamin Franklin
Last book:A man without a country – by Kurt Vonnegut
JOIN US AT THESE EVENTS
Investors Summit – May 5. (Jasmina Henniova – speaker)
PODIM – May 17.-19., Slovenia (Jasmina Henniova – jury)
TechChill – May 18.-21., Latvia (Piotr Sliwa – jury)
Gartner Data & Analytics Summit 2021 – May 18.-20.
Latitude59 – May 27.-28., Estonia
Women in Technology – June 7.-11.