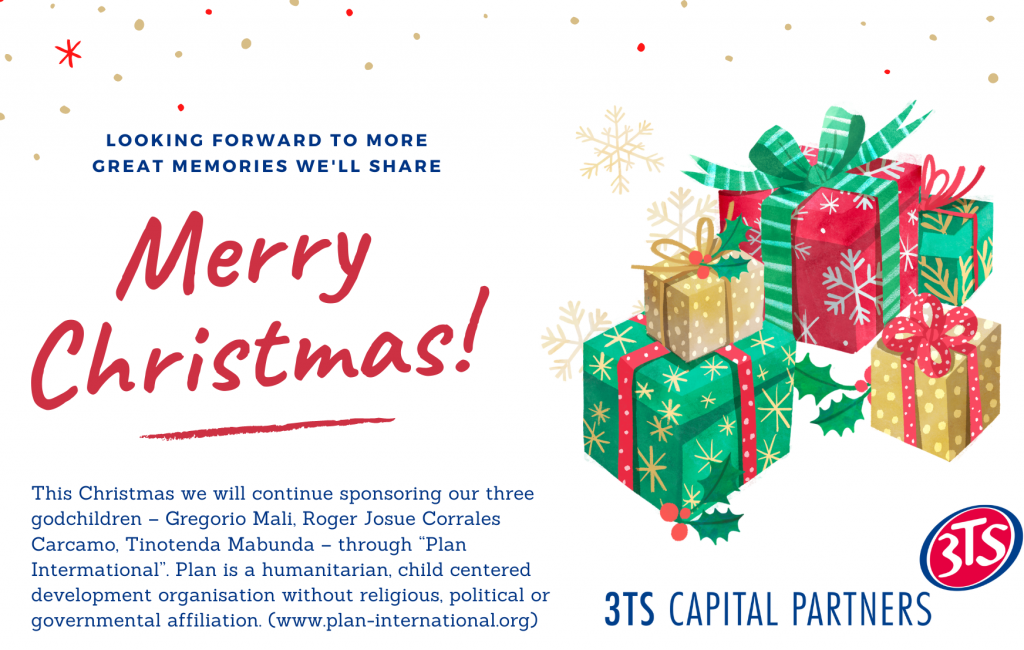 DECEMBER 2022
Dear Friends,

No one could have forecasted the challenges that 2022 brought. Russia's brutal war in Ukraine, inflation, energy crises, higher interest rates, real fears of broad based recession, and lingering effects of Covid. Building great companies is hard enough without all these obstacles. One silver lining of 2022 was being able to be together in-person once again post-Covid. With the Christmas season upon us, we are grateful and want to thank all our portfolio companies' teams, as well as our broader network, for their grit and perseverance to execute through the headwinds of this year. Seeing our Fund III portfolio companies growing revenue well-over 50% on average in 2022 was impressive. Merry Christmas and Happy Holidays to everyone. Here's to the New Year 2023 that brings peace, stability and a whole new level of excitement! We look forward to seeing everyone in the coming year!

Cheers,
The 3TS Team
3TS KEY LEARNINGS

Exciting year at 3TS, raising new funds and continuing to back the next generation of high growth companies, despite an environment full new difficulties.
Two Fund Closings

Five New Portfolio Companies

Six Follow-on Funding Rounds

Progress is Everything – For us this means focusing on the strategic value we bring to our portfolio companies accelerate their progress, helping management teams expand to scale through rapid progress and finding new breakthrough investments that propel human progress.

Resilience – For us, resilience means that special ability to focus and execute relentlessly despite intense, unexpected challenges. Growing and building companies is never a straight line. We have been inspired by so many founders, CEOs and their teams in 2022 as they power-through and drive forward.

Focus – For us that means to focus on what works by re-directing resources, eliminating everything marginal, and cutting out distraction factors.

Important Best-Practices we highlighted across 2022, that will play key roles in whatever comes next.

Have You Stress Tested Your Strategy Lately? – Whether your company is growing exponentially, expanding at a reasonable rate or working on re-building growth, stress-testing your strategies regularly uncovers new expansion ideas, helps fix suboptimal processes or avoids major pitfalls. Stress-testing is not just about preparing for downside risks. It's also about identifying new angles for growth or new ways to move into adjacent markets.

Managing Through Crisis & Coming Out Stronger on the Other Side – None of us have a playbook or a crystal ball and to manage through the crises that came into view in 2022, more so than in prior years. Welcome to zero-visibility driving. Click on the link above to read on for 3 things we know to be true in a time of great uncertainty.
Annual Planning and Tightening Accountability – As companies worked on 2023 annual planning, this time around proved more difficult considering all the challenges around us. The arc of technology adoption digitizing the world will continue to offer plenty of growth opportunities. However, in times like these past business cycles have shown us that tightening accountability more than usual helps to navigate successfully through rough waters.
3TS PORTFOLIO & NETWORK NEWS
Piano's New Chief Revenue Officer – Mark Flaharty
We welcome Mark to Piano and to the broader 3TS team. Mark brings plenty of knowledge and experience to drive Piano's growth further and help take the Company to the next level. As Piano has scaled its revenues 4x in the past 4 years, Mark will have his work cut out for himself to continue this momentum.
Autenti won at Deloitte Technology Fast 50 Central Europe 2022
Excited to see Autenti winning this years' Fast 50 challenge, right after we co-lead their latest round in Q3 2022. We'd like to say we had something to do with it but this rapid growth is all thanks to the great team. We look forward to see what new heights Autenti reaches next year.
NEXD and Dentsu Partner to "Drive" Success for Volkswagen in JapanSince just 23% of websites in Japan are video-enabled, Dentsu and The Trade Desk partnered with NEXD's breakthrough video acceleration platform to be able to leverage the vast video advertising libraries on YouTube. The results were game-changing: 85% engagement rate and 45% completion rate.
GOOD READS & GREAT IDEAS
Antifragile: Things That Gain from Disorder – by Nasim Taleb
The famed author of The Black Swan comes back with a relevant new title for the times we are living in now. Through some very clear examples he outlined how antifragile is beyond the resilient or robust. The resilient resists shocks and stays the same, while the antifragile leverages disorder or uncertainty to get better and better.
Modern Go-to-Market Playbooks for All – by Zoominfo
Zoominfo has become an undisputed leader in B2B marketing and sales targeting intelligence. By seeing what works among their thousands of B2B software clients, they've compiled of broad set of "GTM plays". From intent signal targeting, persona expansion and automating customer referrals, to stalled opportunity follow-up. It's a go-to guide for any SaaS company heading into 2023.
To Get People Back in the Office, Make It Social – by Harvard Review
We've seen companies struggle with return-to-office and hybrid-work. Sounds intuitive but "making it social" is the key. Survey data shows 85% of employees would be motivated to go into the office to rebuild team bonds. And 3% say they would go frequently if they knew their direct team members would be there. Creating in-person rituals of bringing groups back to the office with a highly consistent cadence across departments may be the way.