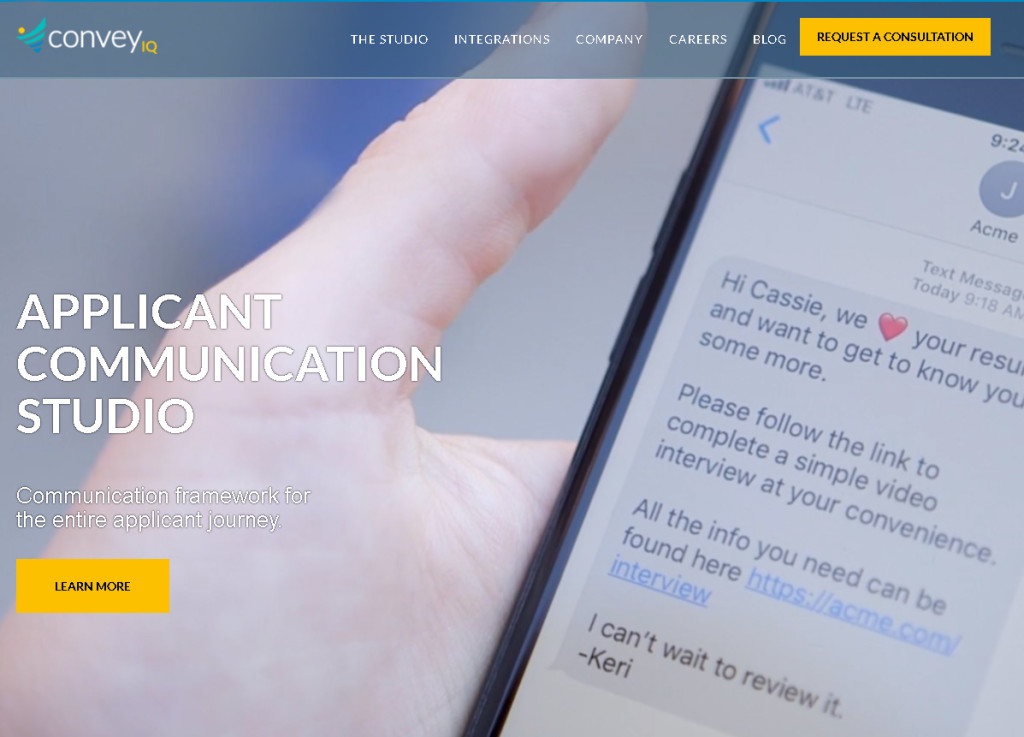 October 18, 2018
Vienna, Belgrade, New York, NY – ConveyIQ, the leading provider of enterprise Talent Communication and Recruiting Automation software, announced that it has closed $5.5 million in funding led by SC Ventures, with participation from existing investors 3TS Capital Partners, StarVest Partners and other current investors. The funding will help drive ConveyIQ's leadership position by fueling sales & marketing, new product expansion and the channel partnership program.
Over 140 enterprises leverage ConveyIQ to automate recruitment processes and have achieved dramatically improved candidate engagement, speed to hire and talent quality, while optimizing their large and growing investments in candidate sourcing. These strategic results can be achieved solely through the Company's Talent Communication Platform, since ConveyIQ provides the only integrated suite of candidate communication, automated scheduling and digital interviewing management products in the market. The Company has tripled in size over the past three years and continues its high growth trajectory in 2018. ConveyIQ has common customers and close integration partnerships with market leading ATS (Applicant Tracking System) providers including IBM/Kanexa, Oracle/Taleo, Greenhouse, and iCIMS.
"The growth of our customer base is a testament to the value communicating with talent delivers to enterprise clients, from NBC Universal, Bell Canada, CIBC and Dentsu Aegis, to Warby Parker and HubSpot. We are thrilled to have a SC Ventures as a co-investor alongside our existing backers for the next leg of our exciting journey," said Danielle Weinblatt, ConveyIQ's founder and CEO.
In conjunction with the financing, ConveyIQ appointed Larry Murff as COO where he will lead financial, support and sales operations. Prior to his time at ConveyIQ, Larry was working closely with VC backed technology companies such as Thrive Global, King Digital, Onfido, Able and Mother.ly During his tenure with these companies, Larry was instrumental in securing numerous rounds of funding ranging from $20m to $35m.  Previously, Larry was VP of Global Sales Operation at Quantcast, one of the leading digital marketing platforms. His prior experience includes VP of Operations roles at Sprinklr, the social media analytics leader, and Bazaarvoice (NYSE: BV) where he oversaw US and UK operations.
"ConveyIQ's management is demonstrating impressive levels of understanding of the HR market dynamics and has been able to define a very clear vision for the company's future growth. I firmly believe ConveyIQ will transform the way best employers communicate, source and attract top talent, which makes us extremely excited to have the opportunity to be a part of this journey", said Jan Kobler, Managing Partner of SC Ventures, who joins ConveyIQ's board of directors.
Sever Totia, Partner with 3TS Capital Partners and ConveyIQ director added, "the Company's leadership position, growth and impressive customer roster reflect our thesis that recruiting is one of the large HR segments that has a critical need for and is adopting automation, in order to improve speed and talent quality in the highly competitive candidate sourcing market."     
About ConveyIQ
ConveyIQ is establishing a leading position in the new and rapidly growing Talent Communication market, by providing a unique, integrated communications suite, scheduling and digital interviewing platform that helps automate recruiting operations end-to-end. Over 140 enterprises rely on ConveyIQ to engage candidates quickly, attract high quality talent and hire dramatically faster.